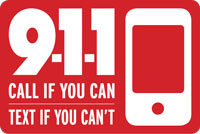 Text to 9-1-1 is Available in North Dakota
9-1-1:
Call if You Can, Text if You Can't
Text to 9-1-1 should only be used in an emergency situation, when placing a call is not possible, for example: if the person needing emergency help is deaf, hard of hearing, or when speaking out loud would put the individual in danger.
If there is an emergency and you are unable to make a call, remember these steps:
Enter "911" in the To Text to 9-1-1: Type 911 in the "To field".

It is essential for users to include in the message their location including house number, street address and city.

It should also include a description of the type of emergency and help needed.

Text in simple words - Send a short text message without abbreviations or slang.

Some examples are:

Send Police. 123 Best Avenue. Jamestown. Intruder in home.

Send Ambulance. 555 88th Street. 2 vehicle crash.

Be prepared to answer questions and follow instructions from the 9-1-1 call taker.
There are challenges that come with Text to 9-1-1, so a voice call is always preferred if possible and safe.
You need a text or data plan is required to place a text to 9-1-1 message.

Text to 9-1-1 is unable to accept photos and videos at this time.

As will all text messages, it may take longer to receive a text, it may arrive out of order, and it may not be received at all.

In some situations, if you are roaming on another carrier's network, text-to-911 may not work.

Text to 9-1-1 is not available in every state, and if your text message happens to go through a cell tower in another state (calls near the border), you may receive a message that the service is unavailable.

Text to 9-1-1 cannot include more than one person. Do not send your emergency text to anyone other than 9-1-1

Don't Abuse 9-1-1—Text-to-9-1-1 service is ONLY for emergencies.

It is a crime to text or call 9-1-1 with a false report.

While the Text to 9-1-1 service is unable to accept photos or videos at this time, it is an area that will be developed in the future.
Additional information about 9-1-1 services in North Dakota at the North Dakota 911 Association website https://911.nd.gov/