Hours: 8:30 am - 12:00
and 1:00 pm - 4:30 pm
Address: PO Box 128,
202 4th Ave NE, LaMoure, ND 58458

The purpose of the LaMoure County Auditor is the Chief Financial Officer -- control of
budgets - Auditor 2017 Description.pdf. We have all City, Township, Park Districts and School Budgets on file. For election results: https://vip.sos.nd.gov/PortalList.aspx. We also have the LaMoure County Job Applications - County Job Application.pdf .

Information on the upcoming LaMoure County June 9th, 2020 Primary Election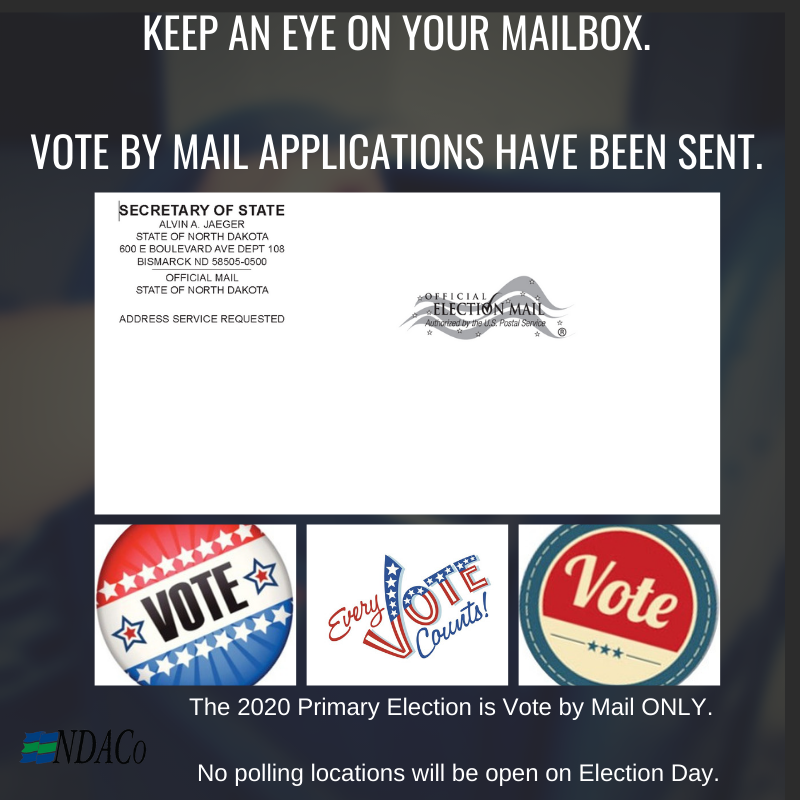 Around April 20th LaMoure County residents will be receiving an application in the mail from the ND Secretary of State's Office to Vote by Mail (VBM) for the June 9th Primary Election. LaMoure County residents will receive an application to complete and return by mail to the LaMoure County Auditor's Office. When completing the application, checkmark the (all statewide box) if you wish to vote by mail in the General Election also. This will allow the Auditor's office to send you a ballot automatically for the General Election in the fall and less postage expense for both the voter and the county. The voter will be mailed a ballot for their precinct part, along with the return envelope and instructions for completing their ballot and returning it. This Primary Election there will NOT be an open polling place on Election Day due to the COVID-19 virus. However, there will be a secure ballot drop off location at the LaMoure County Courthouse outside the building on the north side. This will be available until 4:00 p.m. June 9th on Election Day. Following the mailing of applications to voters, a notice will be published in the official county newspaper, along with an application, notifying all individuals who did not receive an application of how to obtain one from the LaMoure County Auditor's Office.The Express Vote equipment will be available at the Courthouse upon appointment at 883-6040 if anyone needs more assistance to complete their ballot.

Below is a copy of the LaMoure County Auditor's Lot Procedures:

LaMoure County Auditor's Lot Procedures_update12Sept2019.pdf

Janice Hamlin was serving as Deputy Auditor and appointed Auditor of LaMoure County on May 2, 2017.

Staff Information:
Janice Hamlin, Auditor
jan.hamlin@co.lamoure.nd.us
701 883-6045

Shanel Bohnenstingl, Deputy Auditor I
shanel.bohnenstingl@co.lamoure.nd.us
701 883-6046
Lori Peterson, Deputy Auditor II
lori.peterson@co.lamoure.nd.us
701 883-6044