Current Job Openings:
LaMoure County is an equal-opportunity employer.
---
Family and Community Wellness Extension Agent: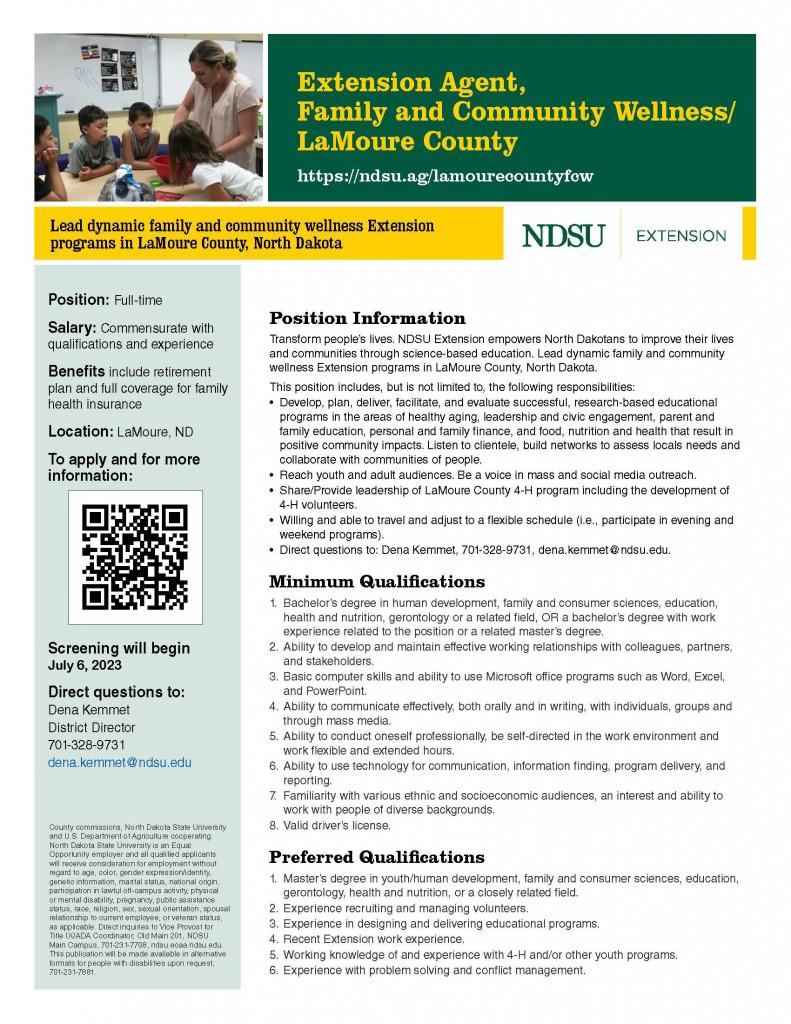 ---
Full -Time Sheriff Deputy:
The LaMoure County Sheriff's Office is accepting applications for the position of Deputy Sheriff. Applicants must be North Dakota P.O.S.T. licensed or licensable as a peace officer. Minimum starting salary is approximately $48,672.00 annually. LaMoure County offers a competitive benefit package to include 100% paid single and 70% family health insurance. LaMoure County also contributes 15.26% toward NDPERS retirement. A $3,000.00 incentive is paid and specialized training is offered upon completion of a 1 year probationary period. Deputies also receive on call pay. LaMoure County supplies all equipment, duty gear, including a take home vehicle. For questions, contact the Lamoure County Sheriff's Office at (701) 883-5720. Mail a cover letter, resume and an application to the LaMoure County Sheriff's Office, P.O. Box 97, LaMoure, ND 58458 or email Sheriff Robert Fernandes at rfernandes@nd.gov. Applications are available through the LaMoure County Sheriff's Office or below. Open Until Filled.
---
Motor Grader Operator:
The LaMoure County Road Department currently has one job opening for a full-time motor grader operator. The job would involve maintaining county roads, township roads, and snow removal. The job would also involve operating other types of equipment and labor when needed throughout the county. The individual will be responsible for the maintenance and service of all equipment operated. The individual must be able to accurately document service work, repairs of equipment, and time worked.

Job Location: LaMoure Road Shop -- 505 4th Ave SE, LaMoure, ND
Minimum Qualifications (required):

Lift a minimum of 50 pounds.

Preferred Qualifications (not required):

High school diploma or GED
Motor Grader Experience
Experience with basic functionality of Microsoft Excel

The Road Department works 44-hour work weeks from May to September (Mon-Thurs) depending on weather and workload. Overtime is paid after 40 hours.
The county provides single (100% paid by the county) and family (70% paid by the county) health insurance, paid holidays, vacation and sick leave, and retirement.
Applications can be obtained from the County Road Department, County Auditor, or by clicking on the link below. Send application to PO Box 128, LaMoure, ND 58458. Contact the LaMoure County Road Shop with any questions at (701)883-5131. The position is open until filled.
---
Park Supervisor:
LaMoure County seeks applicants for a Park Supervisor. The Park Supervisor manages the external operations of Memorial Park and the recreation area including (but not limited to) maintaining and cleaning the park grounds and facilities and assisting park patrons. CSalary DOE; approximately 7-month position (April-October). Deadline is March 17, 2023. Click here for a complete job description.
LaMoure County is an Equal Opportunity Employer.
Please check with the Auditor's Office (701) 883-6040 for job openings.
---
Employee Handbook
Below is the LaMoure County Employee Handbook: