LaMoure County Memorial Park
LaMoure County Memorial Park is just north of Grand Rapids on paved roads. Memorial Park is settled along the bends of the James River.
Save the date of July 25, 2020 for the Memorial Park Centennial Celebration! Saturday's events include a salute to county veterans, pedal pull, pitchfork fondue, music and fireworks. Events are subject to ND Smart Restart Guidelines. You can also find updates and information at the LaMoure County Memorial Park Facebook page or by calling 701-368-8638.
Memorial Park has modern camping facilities, electrical hook ups, modern showers and restrooms, a baseball field, basketball court and playground equipment and the Memorial Park Golf Course is within walking distance. There is also a bunkhouse and kitchen/dining hall available for rent. Family reunions, private parties, hunters and groups are welcome.
Annually, the park hosts pioneer days and a softball tournament. For more information or reservations of the bunkhouse or kitchen/dining hall, please contact the LaMoure County Courthouse Auditor's office at 701 883 6040.
The camping sites are on a first come, first served basis.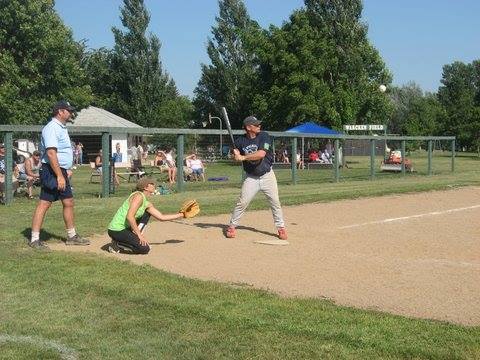 The park is also home to the LaMoure County Museum which is a two story building full of history as well as a one-room school house, country church and annex full of larger artifacts. The Museum will not be open in 2020 due to COVID-19.

An auditorium theatre building is located in the park as well. This theatre building used to host annual musicals and children's threatres. The building now can be rented to host large groups, weddings, or special events.
Memorial Park County Club is a 9-hole grass green golf course that is open to the public and walking distance from the park. This is a 9-hole grass green course along the James River. For tee times or to check out the meal specials at the club house, call 701 883-4296 or visit their Memorial Park Country Club Facebook page at: https://p.facebook.com/memorialparkcc/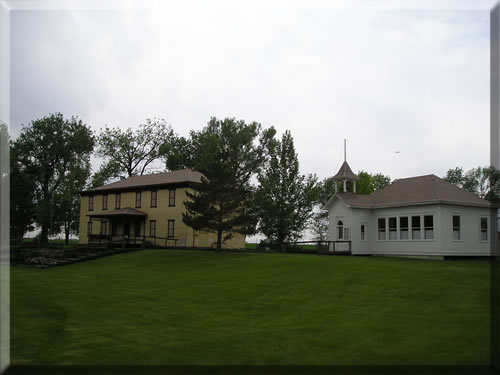 Picture of LaMoure County Museum and Schoolhouse

---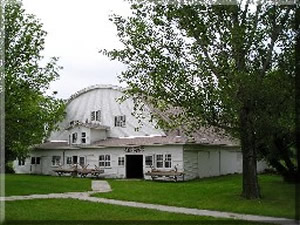 Picture of Summer Musical Theatre building that is also in the park. In the past, musical events were held here.
---
Memorial Park Board Members:
Chairman, Lee Miller
Sonya Albertson
Bob Flath
Bruce Klein
Marvin Schulz
Curwood Seefeldt
Billi Warcken
Memorial Park Board Minutes: