Below are Current Job Openings:
Deputy Sheriff
The LaMoure County Sheriff's Office is currently accepting applications for the position of Deputy Sheriff. Applicants must be North Dakota P.O.S.T. licensed or licensable as a peace officer. Minimum starting salary is approximately $45,012.00 annually. LaMoure County offers a competitive benefit package to include 100% paid single health insurance and contributes 15.26% toward NDPERS retirement. The LaMoure County Sheriff's Office is a family oriented office. Flexible scheduling. Specialized training offered upon completion of a 1 year probationary period (at the discretion of the sheriff). Deputies also receive on call pay. LaMoure County supplies all up to date equipment, duty gear, including a take home vehicle. Any questions please contact the Lamoure County Sheriff's Office at (701) 883-5720. Mail a cover letter, resume and an application to the LaMoure County Sheriff's Office, P.O. Box 97, LaMoure, ND 58458. Applications are available through the LaMoure County Sheriff's Office or below. Open until filled.
Deputy Clerk of Court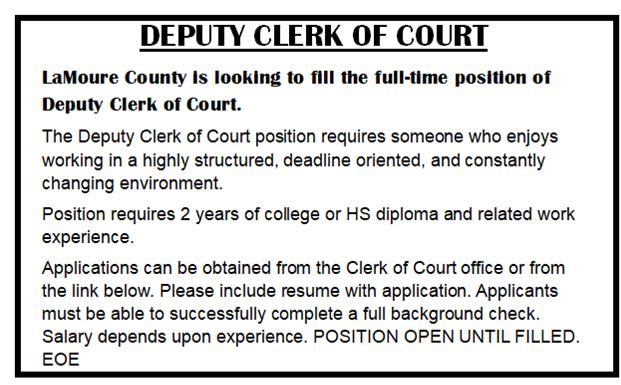 LaMoure County is an equal opportunity employer.
Below is a LaMoure County Job Application.
LaMoure Job Application_with EEO Form.pdf
Please check with the Auditor's Office (701) 883-6040 for job openings.
Employee Handbook
Below is the LaMoure County Employee Handbook.