Motorcycle safety is for everyone on the road
Riding a motorcycle is thrilling, but there can be potential dangers that go along with it. It's important for motorists and motorcyclists to do their part so there are zero fatalities and serious injuries on North Dakota roads.
In 2020 in North Dakota: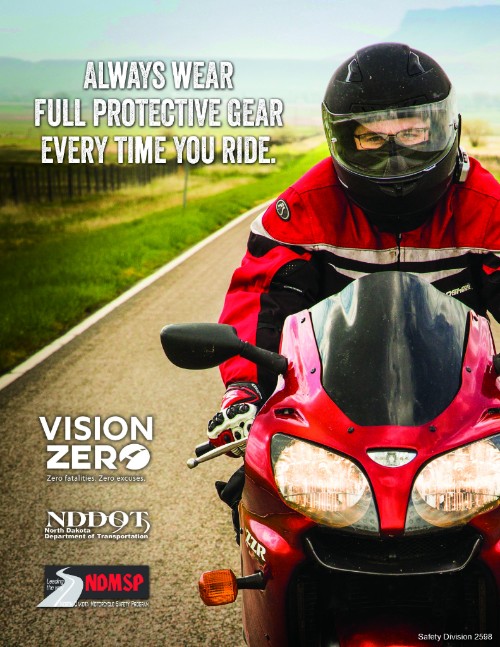 -93.1% of all reported motorcycle crashes resulted in injury or death.
-173 motorcycle crashes occurred, 144 were injury-related and 17 were fatal crashes.
-A motorcycle crash occurred every 2.1 days.
-82.4% of motorcycle fatalities were not wearing a helmet.
Motorcyclists and motorists can work together to save lives. Help your colleagues, students, friends and family remember to Wear All The Gear, All The Time.
Tips for Motorists Sharing the Road:
-Look twice for motorcycles. Check mirrors and blind spots when entering an intersection, changing lanes, passing or turning left.
-Stay back. Motorcycles can stop more quickly than a vehicle.
-Actively watch for motorcycles that may be hidden.
-Do not try to share the lane. Motorcycles have the same right-of-way as any other vehicle.