U Drive. U Text. U Pay. Begins Statewide on September 4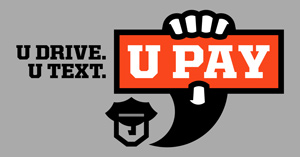 Law enforcement across the state will have extra patrols to enforce the law on distracted driving for the U Drive U Text. U Pay enforcement period September 4-30. Distracted driving is dangerous and often deadly. Distracted driving takes on many forms; however, texting is one of the most common across the nation and is illegal in North Dakota.
This campaign is part of the Vision Zero strategy to eliminate motor vehicle crash fatalities and serious injuries on North Dakota roads.