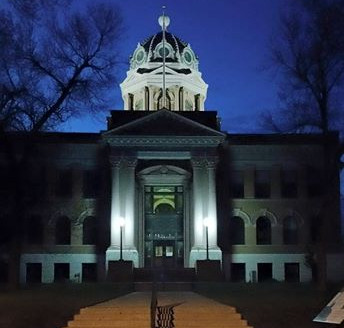 Check below to see if the Burn Restriction is in effect. Burning Prohibited when the Fire Danger Rating is High, Very High, Extreme or a Red Flag Warning is in effect.
Daily Fire Danger Rating:
https://www.nd.gov/des/Default.asp

LaMoure County is located in southeast North Dakota. LaMoure, Verona, Berlin, Edgeley, Kulm, Jud, Dickey, and Marion are the cities within the county and the county seat is LaMoure. Unincorporated cities are Alfred, Nortonville, Adrian, and Grand Rapids. There are 32 organized townships. The county was created in 1873 and later organized in 1881. The county seat was originally in Grand Rapids and then moved to LaMoure. The courthouse is on the National Register of Historic Places.

Address:
202 4th Ave NE, LaMoure, ND 58458
Hours:
8:30 a.m. - 12:00 Noon and
1:00 p.m. - 4:30 p.m.
Auditor - 883-6040
Clerk of Court - 883-6050
Court Recorder - 883-5193
Emergency Management & 911 Coordinator- 883-6096
Extension Services- 883-6080
Highway Department - 883-5131
Public Health - 883-5356
Recorder - 883-6070
Sheriff - 883-5720
Social Services - 883-6060
State's Attorney 883-5600
Tax Equalization - 883-6021
Treasurer - 883-6090
Veteran Affairs - 883-6055
Or the offices can be reached by dialing (701) 883-5301 and listen to all the instructions to find the correct office.