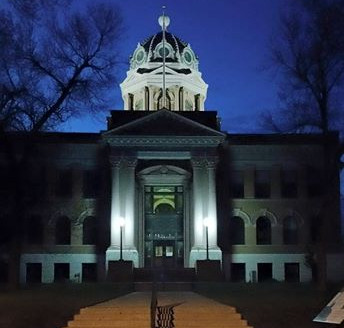 LaMoure County is located in southeast North Dakota.  LaMoure, Verona, Berlin, Edgeley, Kulm, Jud, Dickey, and Marion are the cities within the county and the county seat is LaMoure.  Unincorporated cities are Alfred, Nortonville, Adrian, and Grand Rapids.  There are 32 organized townships. The county was created in 1873 and later organized in 1881.  The county seat was originally in Grand Rapids and then moved to LaMoure.  The courthouse is on the National Register of Historic Places.
NDResponse has gathered a number of resources for North Dakota residents for topics such as flooding, fire danger map, agricultural relief, public alerts and more.

LaMoure County has implemented mitigation strategies for COVID-19. The public is encouraged to conduct business with LaMoure County departments through a telephone call or when possible email.  If your business requires visiting any LaMoure County facility, please follow social distancing and ND Smart ReStart Business guidelines
Courthouse Address:

PO Box 128, 202 4th Ave NE, LaMoure, ND 58458
Courthouse Hours: 
8:30 a.m. - 12:00 Noon and
1:00 p.m. - 4:30 p.m.
Auditor - (701) 883-6040
Clerk of Court - (701) 883-6050
Court Recorder - (701) 883-5193
Emergency Management & 911 Coordinator- (701) 883-6096
Extension Services- (701) 883-6080
Highway Department - (701) 883-5131
Public Health - (701) 883-5356
Recorder - (701) 883-6070
Sheriff  - (701) 883-5720
Human Services -(701) 883-6060
State's Attorney - (701) 883-5418
Tax Equalization  - (701) 883-6021
Treasurer - (701) 883-6090
Veteran Affairs - (701) 883-6055

Or the offices can be reached by dialing (701) 883-5301 and listen to all the instructions to find the correct office.
Remember to sign up your Cell Phone for Emergency Alerts for YOUR LaMoure County Location.