Dakota Wellness Program
Continue earning points towards your 2020 wellness benefit
You can earn points toward your wellness benefit for online activities in the wellness portal like:
Tracking health habits such as your latest weight, steps, strength training, fruit and veggie servings, cups of water, low calorie snacks and aerobic exercise (5 to 40 points each)

Learn about and try a new health habit in the Sessions tab (1,000 points each month)

Completing an annual check-up at the doctor (5,000 points), dental visit (2,500 points) and by taking the online health risk assessment (2,500 points)
Wellness Portal Features
Monthly Wellness for County Employees
sanfordhealthplan.com/NDPERS/DakotaWellnessProgram
Dakota Wellness Program
New online wellness portal app
Monthly Well-being Education - Marathon in a Month
Activate! Focus on your well-being. Try the LaMoure County Wellness Challenge.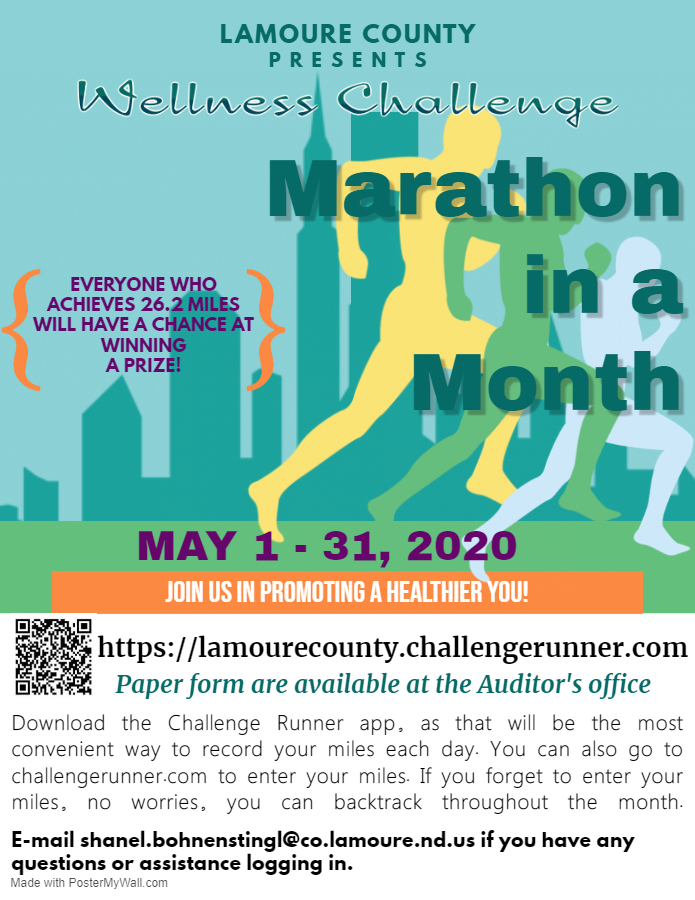 Nutrition: Your plate does not always have to be perfect. Don't feel guilty foreating foods that may not normally be in your diet. Focus on having aserving of produce with every meal or snack. Fruits and vegetablescan be fresh, frozen or canned- any of these options are a healthychoice.
Exercise: Your gym may be closed and routine disrupted, take this time to trynew things. Go for a walk before work or during a break. Try a newworkout video on YouTube. Make it a family affair by spending timeplaying hide and seek or tag outside. If you prefer a scheduled routine,keep time for exercise on your calendar throughout your day.
Sleep: Getting up at the same time each day and having a set bedtime is keyto having a thriving day. Now is the time to start practicing a healthysleep routine. You may feel like staying up later or sleeping in dueto leading a less busy life, but less sleep can lead to a decreasedimmune system response and higher levels of stress.
2020 Voucher Program
Members can now upload vouchers to the online wellness portal
With the launch of the 2020 wellness benefit year, members are now able to earn their voucher points right after participating in onsite events.
After your wellness activity in the workplace is complete:

Wellness coordinators fill out the event code and point value section of the form

The voucher is distributed to employees after attending a wellness event via email or printed copy

Employees follow instructions on the form to upload to the online wellness portal