911 Coordinator Information:
LaMoure County 9-1-1 calls are answered by North Dakota State Radio in Bismarck. For non-emergency calls, please contact State Radio at 1-800-472-2121.
To obtain a new 9-1-1 address or verify an existing address in rural LaMoure County, please call 883-6096.
For a new address within a city, please contact your city administrator first and then LaMoure County 9-1-1 Coordinator.
NEW - - 57-40.6-02.2. Authority of counties or cities to impose fee on assessed
communications service - Procedure. (Effective through July 31, 2023)
The governing body of a county or city may impose a fee on all assessed communications
services in accordance with the following requirements:

2. A political subdivision shall add a fee of fifty cents to the fee imposed on assessed
communications services established under subsection 1. The additional fifty cents per
communication connection must be remitted to the state treasurer for deposit in the
statewide interoperable radio network fund in accordance with section 37-17.3-12 for
implementing a statewide interoperable radio network. The funds collected under this
subsection must be expended in a manner consistent with the recommendations of the
statewide interoperability executive committee.

https://www.nd.gov/itd/statewide-alliances/siec/sirn-2020

9-1-1 can help you. In an emergency, seconds matter, so being knowledgeable and prepared can make all the difference.
Here's what you can do:
Know WHEN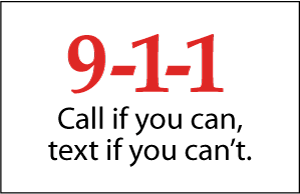 to call 9-1-1. 9-1-1 is for emergencies only. You should only be dialing 9-1-1 if someone is hurt or in danger, or if you are in immediate need of police, fire, or medical assistance. If you aren't sure if your situation is an emergency, you should err on the side of safety and call 9-1-1. If it isn't safe to talk, you can also now Text to 911.
Know WHERE you are. This is probably the most important information you can provide as a 9-1-1 caller, so try to be aware of your surroundings. If you are outside and don't know the street address, try to look around for landmarks or cross streets. If you are inside a large building or one with multiple levels, you can help emergency services by letting them know which floor you are on, which apartment you are in, etc. You will need to include an address in the text as well.
Never hang up. You may have called 9-1-1 by accident, or your situation may have resolved itself, but it is important to let the 9-1-1 dispatcher know this. Always make sure the 9-1-1 call taker tells you it is ok to hang up before you do so. Keep texting with the 9-1-1 operator so they have all the information.
Don't let your kids play with old cell phones. Many people don't know this, but the law mandates that even old, deactivated cell phones with no associated service plan must still be able to call 9-1-1. An old cell phone may seem to be a harmless toy, but know that it can lead to problems. At the very least, remove the battery before giving it to your youngster. An even better idea is to donate that retired wireless device to a charitable program that can safety recycle it.
Don't have a landline phone? Many people are hoping to save some money by disconnecting their land-line phone in favor of cell phones only. If you choose to do this, remember your address is not visible to the dispatcher – although they may get your latitude/longitude coordinates if you cell phone has that capability. Don't leave young children home alone without some means of communication.
Text to 9-1-1 should only be used in an emergency situation, when placing a call is not possible, for example: if the person needing emergency help is deaf, hard of hearing, or when speaking out loud would put the individual in danger.
If there is an emergency and you are unable to make a call, remember these steps:
Enter "911" in the To Text to 9-1-1: Type 911 in the "To field".

It is essential for users to include in the message their location including house number, street address and city.

It should also include a description of the type of emergency and help needed.

Text in simple words - Send a short text message without abbreviations or slang.

Some examples are:

Send Police. 123 Best Avenue. Jamestown. Intruder in home.

Send Ambulance. 555 88th Street. 2 vehicle crash.

Be prepared to answer questions and follow instructions from the 9-1-1 call taker.
What is Next Generation 9-1-1?
See the Presentation from the November 17, 2015 County Commission Meeting
Commissioners Meeting 17NOV2015.pdf

Kimberly Robbins
Emergency Services Communication System Coordintor
kimberly.robbins@co.lamoure.nd.us
krobbins@nd.gov
701 883 6096
LaMoure County is a member of the North Dakota 911 Association.
http://nd911.homestead.com/