James River Information
JAMES RIVER INFORMATION-Jamestown and Pipestem Reservoirs are located along the James River and Pipestem Creek immediately north of Jamestown, N.D. Pipestem Reservoir is a United State Army Corps of Engineer (USACE) project and Jamestown Reservoir is a Bureau of Reclamation project that is regulated by the USACE when the reservoir is in the flood control zone.
*Data from gages on the James River in North Dakota and South Dakota is available on the U.S. Geological Survey website at https://waterdata.usgs.gov/nwis/uv?site_no=06470500
Daily reservoir information is provided by the Corps at
https://www.nwo.usace.army.mil/Missions/Water-Information/Water-Control/
--In 2009, the James River at LaMoure had two records. The river recorded its highest reading of 17.56ft on April 15th and a high crest of 16.52ft earlier that spring. The Adrian gage also experienced a record crest of 36.43ft on April 14th, 2009.
--On April 4, 2019 near midnight, the James River at LaMoure rose to 15.95ft which would overtake the 2010 record level of 15.80ft. Due to the wettest September in 125 years and an early October blizzard that produced over 12 inches of snow, the James River saw a second crest of 15.12ft on October 26, 2019 that is now the 9th highest river level on record. The James River at Adrian also rose to levels that surpassed 2010 and 2011 levels as the river crested at 33.31ft and 4410cfs on October 23, 2019.
--Flows are regulated from the Jamestown and Pipestem reservoirs into the James River. Much planning and coordination is done to determine the releases. High Flow years mean that more than 160,000 acre-feet need to be discharged from the Jamestown/Pipestem reservoirs. 2008 was a low flow year with less than 20,000 acre-feet discharged versus 2011 was the record year for volume at over 800,000 acre-feet discharged.Other Recent Years of High Maximum combined releases from the Jamestown,Pipestem Reservoirs are below in the table.
| | | |
| --- | --- | --- |
| Year | Maximum Release | Total Annual Discharge Volume (acre-ft) |
| 1997 | 1800cfs | ~445,000 |
| 2008 | NA | ~10,000 |
| 2009 | 3200cfs | ~540,000 |
| 2010 | 1800cfs | ~350,000 |
| 2011 | 2400cfs | ~840,000 |
| 2019 | 2400cfs | ~447,000 |
Historic Crests
Major flood stage 18ft
(1) 17.56 ft on 04/15/2009 - record
(2) 16.52 ft on 03/27/2009
(3) 16.20 ft on 05/24/1969
(4) 16.17 ft on 04/14/1969
(5) 16.09 ft on 04/01/1997
Moderate flood stage 16 feet ~ 7,530 cfs
(6) 15.95ft on 04/04/2019
(7) 15.80 ft on 03/21/2010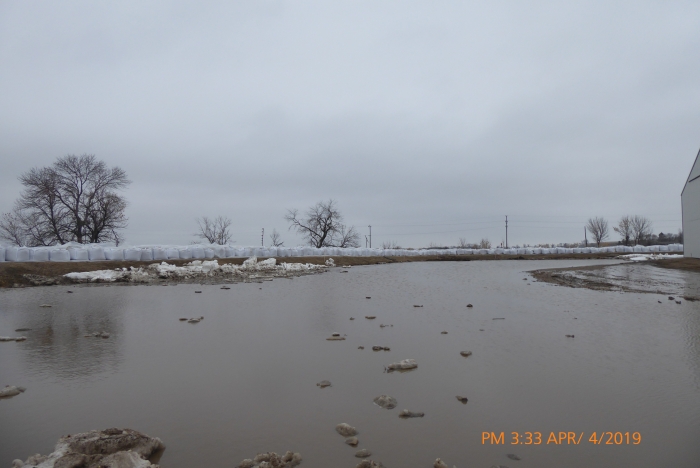 (8) 15.34 ft on 05/16/1950
(9) 15.12 ft on 10/26/2019
(10) 14.85 ft on 03/21/1966
Minor flood stage 14.0 feet ~ 3,880 cfs
Action stage 12.0 feet ~ 2,690 cfs
Average level 7 to 8 feet