James River Information
JAMES RIVER INFORMATION-Jamestown and Pipestem Reservoirs are located along the James River and Pipestem Creek immediately north of Jamestown, N.D. Pipestem Reservoir is a United State Army Corps of Engineer (USACE) project and Jamestown Reservoir is a Bureau of Reclamation project that is regulated by the USACE when the reservoir is in the flood control zone.
**Spring Flood Outlook information is available here:
https://www.weather.gov/bis/SpringFloodOutlookForMissouriandJamesRiverBasins

https://water.weather.gov/ahps2/hydrograph.php?wfo=bis&gage=lamn8
*Data from gages on the James River in North Dakota and South Dakota is available on the U.S. Geological Survey website at https://waterdata.usgs.gov/nwis/inventory/?site_no=06470500

Daily reservoir information is provided by the Corps at
http://www.nwd-mr.usace.army.mil/rcc/nwo/dailybull.pdf.
--High Flow years mean that more than 160,000 acre-feet need to be discharged. 2012 was a low flow year with less than 50,000 acre-feet discharged versus 2011 was the record year for volume at over 800,000 acre-feet discharged.
--Heavy Rains in May 2015 caused the river to rise. The river crested at 12:45AM on Thursday, May 21st at 11.42ft at the LaMoure City Gauge. Action Flood stage is 12.0 ft. This caused agricultural land flooding.

--Other Recent Years of High Maximum combined releases from the Jamestown,Pipestem Reservoirs are below in the table.
| | | |
| --- | --- | --- |
| Year | Maximum Release | Total Annual Discharge Volume (acre-ft) |
| 1997 | 1800cfs | ~445,000 |
| 2008 | NA | ~10,000 |
| 2009 | 3200cfs | ~540,000 |
| 2010 | 1800cfs | ~350,000 |
| 2011 | 2400cfs | ~840,000 |
| 2012 | NA | ~40,000 |
| 2013 | NA | ~280,000 |
Historic Crests
Major flood stage 18ft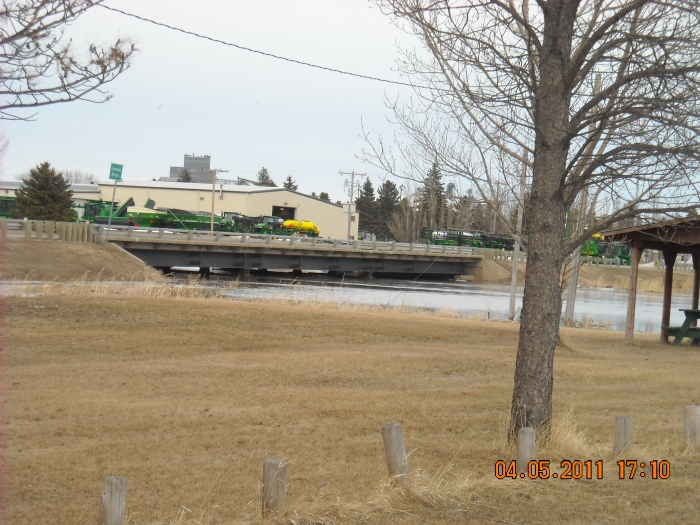 (1) 17.56 ft on 04/15/2009 - Record
(2) 16.52 fton 03/27/2009
(3) 16.20 ft on 05/24/1969
(4) 16.17 ft on 04/14/1969
(5) 16.09 ft on 04/01/1997
(6) 15.80 ft on 03/21/2010 -
Moderate flood stage 16 feet ~ 7,530 cfs
(7) 15.34 ft on 05/16/1950
(8) 14.85 ft on 03/21/1966
(9) 14.85 ft on 04/11/1952
(10) 14.67 ft on 04/13/1996
(11) 14.64 ft on 07/21/1993
(12) 14.48 ft on 04/06/2011
(13) 14.43 ft on03/20/1996
(14) 14.33 ft on 07/01/2011
(15) 14.17 ft on 03/24/1994
- Flood stage 14.0 feet ~ 3,880 cfs

–Action stage 12.0 feet ~ 2,690 cfs
–Average level 7 to 8 feet