Emergency Management Monthly News
We are nearing the end of updating the LaMoure County Multi Hazard Mitigation Plan. For more information: https://lamourecountyhazardplan.com/
Beat the Heat - Extreme Heat Safety
Never leave children or pets alone in hot vehicles! Heat can rise in a car, up to 20 degrees in just 10 minutes. If you see a child in a hot car - act fast - you could save a life.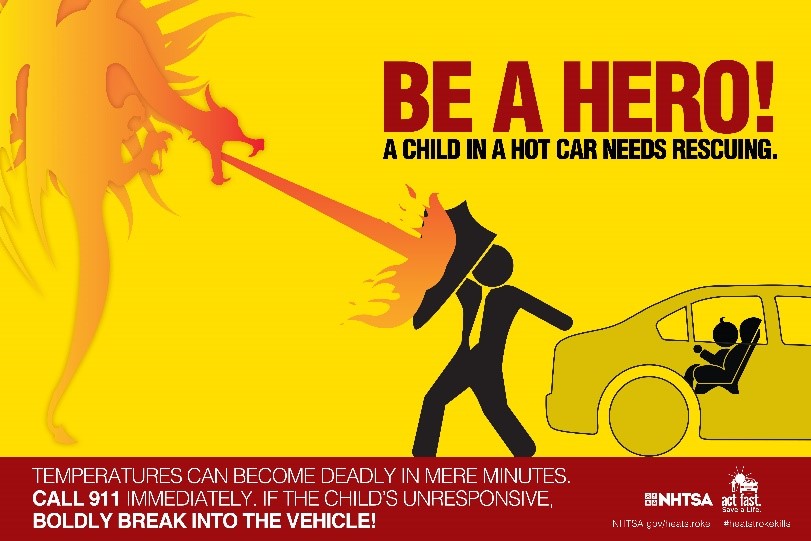 Heatstroke is the leading cause of vehicular not-in-traffic non-crash-related deaths for children under 14. In fact, each year, an average of 38 children have died from heatstroke since 1998.
Sadly, these are the current statistics:
- Child vehicular heatstroke fatalities in 2018 = 52
- Child vehicular heatstroke fatalities in 2017 = 43
Yet, this tragedy is 100% preventable.
While it seems like an impossible mistake to make, every parent or caregiver can potentially become distracted, and distractions often fuel this devastating situation. No one is immune.
We each have a role to play to help keep our kids safe. Help us share life-saving tips and resources with as many people as we can.
Take Action. Act Fast. Save a Life.
Source: Vison Zero North Dakota
During extreme heat, drink plenty of water, even if you don't feel thirsty. If you have heat cramps, rest in a cool place and drink a beverage containing electrolytes and sodium, like a sports drink.
During extreme heat, check on family, friends, and neighbors who do not have air conditioning and who spend much of their time alone.

Public Alerts
Public Alerts can be sent to inform or request the public for assistance. Public Alerts can be sent on land line telephones, cellular and smart phones, North Dakota Lottery messaging boards and Interstate Highway messaging boards.
LaMoure County can send a public alert through its CodeRED system. Please consider signing up your cellular or smart phone to receive a call or text message. LaMoure County can also request a Statewide alert if the criteria is met for an Amber, Silver or Blue Alert. For more information:
CodeRED sign up
Please consider signing up for the CodeRED system !
LaMoure County Local Emergency Planning Meeting
The next meeting would be Wednesday, August 14th in Edgeley.
The Committee meets quarterly, the last Thursday unless otherwise denoted.
The first Wednesday of each month the outdoor warning sirens are tested at appoximately 11:00AM.